'Spring 2012 Sampler'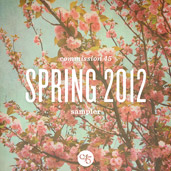 Commission 45 (C45SMP1)
Released March 2012
01 Heligoland - Swallows Return
02 Sealight - White Walk
03 Heligoland - La Volière 04 Emin Pasha - Cevenna
Available from as a free download from the Commission 45 Bandcamp page
'Spring 2012 Sampler' is a download-only compilation by Commission 45 comprising a selection of tracks from the label.
"La Voliere" is a previously unreleased song recorded during the sessions for Heligoland's third album 'All Your Ships Are White'.
"La Voliere" was recorded in Paris and Rennes and was produced and mixed by Robin Guthrie.